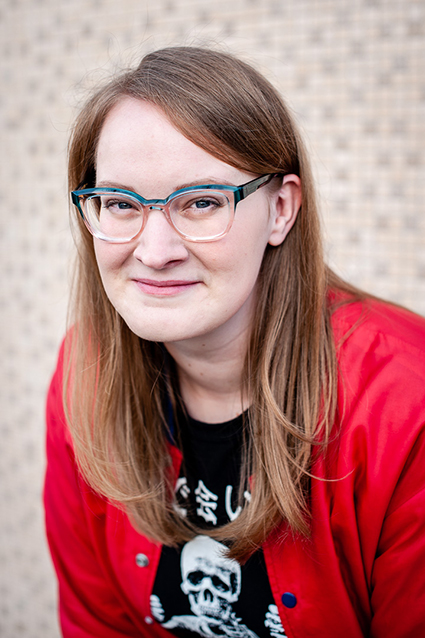 Stephanie Blakey
Hello! I'm a storyboard artist in Vancouver, Canada. I've worked on such shows as Cupcake & Dino: General Services, and The Last Kids on Earth. I've also been a jury member for the Northwest Animation Festival in 2017 and 2018.
Having grown up on a steady diet of absurd comedy, forbidden horror, Japanese comics, and this-is-definitely-not-for-kids animation, I now create things that are mainly an amalgamation of all of those things. I'm a huge fan of horror and comedy, and like to bring them together in weird ways. I've been expressing these influences recently in the form of paper illustrations and comics.
I graduated from the National Film and Television School in 2014 with a Master's degree in Directing Animation. Currently, I'm developing several personal projects outside of my day job as a storyboard artist. I love working with others on telling funny and weird stories- there's nothing more satisfying than contributing your best ideas together to make something you could never have thought of on your own.
You can find me sometimes at comic conventions peddling my paper art and comics, and I also make buttons, too! Check my Twitter for convention announcements (though a warning: they're few and far in between.)
I also made a short film a few years ago that did alright on the festival circuit!
"The Last Resort" was my thesis film at the National Film and Television School featuring the voice talent of Canadian comedian Katherine Ryan, respected stage actor Sir John Standing, and the precocious daughter of Katherine, Violet Ryan. A papercut stop-motion animated love letter to the Canadian Rockies and horror movies, it toured the world and won several awards:
Winner:
Best Animation, Media Film Festival, 2015
Best Short Film, Mirror Mountain Film Festival, 2015
Best of the Fest, Palm Springs International Shortfest, 2014
Audience Award, Austin Film Festival, 2014
Official Selection:
Vancouver Horror Show, 2018
Animation Chico, 2016
The Rio Grind Film Festival, 2016
Halloweenapalooza, 2016
Arts & Algorithms International Shorts Film Festival, 2015
Klik! Amsterdam Animation Festival, 2015
Be There! Corfu Animation Festival 2015
Anibar International Animation Festival, 2015
Newport Beach Film Festival, 2015
Horrible Imaginings Film Festival, 2015
Stuttgart Festival of Animated Film, 2015
Edinburgh International Film Festival, 2015
SICAF, 2015
Cinequest, 2015
Tricky Women, 2015
Nashville Film Festival, 2015
Colchester Film Festival, 2015
Student Art Festival, 2015
Buried Alive Film Fest, 2014
Underwire Festival, 2014
St. Louis International Film Festival, 2014
Anima Mundi, 2014
Animafest Zagreb, 2014