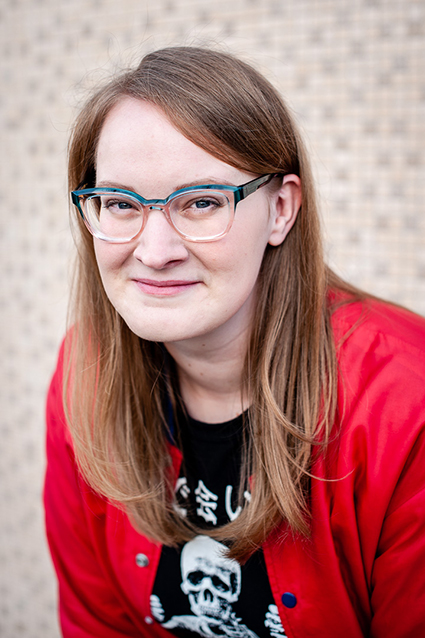 Stephanie Blakey
Hello! I'm an animation director and storyboard supervisor based in Vancouver, Canada. I've worked on such shows as Cupcake & Dino: General Services, and The Last Kids on Earth. I was a jury member for film submissions to the Spark Animation Festival 2019 and was also a jury member for the Northwest Animation Festival in 2017 and 2018.
I was selected as director for the inaugural Five in Focus program created by Women in Animation Vancouver and Women in View, working with a team of four other women to develop and produce a short animated film called "The Butterfly Affect" which premiered locally at the Spark Animation Festival in Vancouver, October 2019, where we also hosted a panel to discuss the film and initiative in general. As a team, we also held a panel at the Women in Animation World Summit at the Annecy International Animation Festival in 2019, and have kicked off our international film festival circuit with the New York International Children's Festival, where "The Butterfly Affect" has been selected as part of their best of the fest program.
I graduated from the National Film and Television School in 2014 with a Master's degree in Directing Animation. Currently, I'm developing several personal projects outside of my day job as a storyboard supervisor. I love working with others on telling funny and weird stories- there's nothing more satisfying than contributing your best ideas together to make something you could never have thought of on your own.
When I'm not working on animated projects, you can find me reading comics, traveling, making paper cutout artwork, or playing with neighbourhood cats.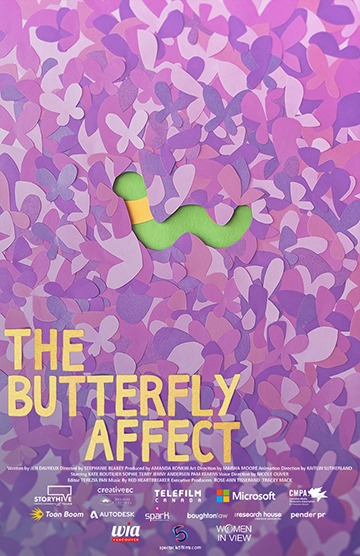 "The Butterfly Affect" was made in part with Women in Animation and Women in View as part of their inaugural "Five in Focus: Animation" initiative, now known as ACE. My team and I have given talks on the initiative and the film at the Annecy International Animation Festival, CTN, Spark, and at Cinesite.
For more info, head to http://spectacle5films.com/
Official Selection:
Spark Animation Festival, 2019
New York International Children's Film Festival, 2020
"The Last Resort" was my thesis film at the National Film and Television School featuring the voice talent of Canadian comedian Katherine Ryan, respected stage actor Sir John Standing, and the precocious daughter of Katherine, Violet Ryan. A papercut stop-motion animated love letter to the Canadian Rockies and horror movies, it toured the world and won several awards:
Winner:
Best Animation, Media Film Festival, 2015
Best Short Film, Mirror Mountain Film Festival, 2015
Best of the Fest, Palm Springs International Shortfest, 2014
Audience Award, Austin Film Festival, 2014
Official Selection:
Vancouver Horror Show, 2018
Animation Chico, 2016
The Rio Grind Film Festival, 2016
Halloweenapalooza, 2016
Arts & Algorithms International Shorts Film Festival, 2015
Klik! Amsterdam Animation Festival, 2015
Be There! Corfu Animation Festival 2015
Anibar International Animation Festival, 2015
Newport Beach Film Festival, 2015
Horrible Imaginings Film Festival, 2015
Stuttgart Festival of Animated Film, 2015
Edinburgh International Film Festival, 2015
SICAF, 2015
Cinequest, 2015
Tricky Women, 2015
Nashville Film Festival, 2015
Colchester Film Festival, 2015
Student Art Festival, 2015
Buried Alive Film Fest, 2014
Underwire Festival, 2014
St. Louis International Film Festival, 2014
Anima Mundi, 2014
Animafest Zagreb, 2014